Every once in a while, you see a couple of wrestlers dissociate from the main adult wrestling studios and they end up creating their own company. You've got Frank the Tank who previously made videos from Thunder's Arena, found his own Mission4Muscle and tagged a couple of his friends along. We also get to see Morgan Cruise, who worked for BG East, sell his own sets of videos at Muscle Domination Wrestling and MorganCruise.us. The list just keeps growing... which is great for us because more wrestling companies means more bearhugs for us!


For instance, Cameron Matthews apparently also seems to have found the financial potential of his wrestling skills and contacts. While the name of the website seems to imply a site only for himself, it is far from being the case. I suppose if you are someone like him, then you probably have lots of buddy-buddies in the wrestling industry. His site, cameronwrestler.com already houses about 30 videos with an active roster of at least a dozen wrestlers. He has good-looking wrestlers working under him, many you've seen before in both BG and Thunder's, but also brand new ones that have not appeared anywhere else. My guess is that its only a matter of time before he'll take a bigger chunk of the pie of the adult wrestling industry. Hey, why settle for a one-time payment for shooting a video for a company when you can keep 90% of all the profits of every future sale of the video?

If you are curious, there's already a couple of bearhugs recorded in the Uploads section for this company... and I really expect this list to be growing bigger.

But yea, according to this comparison chart here (click here), BG East still holds about 25% of all the bearhug images uploaded to the site, followed far behind by Thunder's Arena with 14%. The totality of all bearhug images from Cameron Wrestler currently account for ... a measly 0.09% of the site's bearhug uploads. So there's still a very long long long way to go.


---


While I was browsing Cameron's site, I stumbled on to this: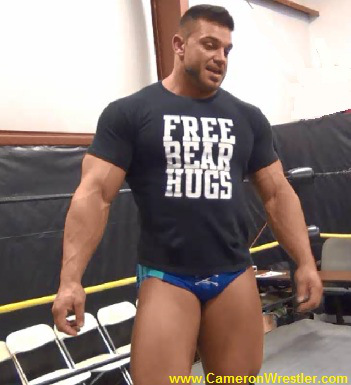 Yes, Big Barry Burke, I will gladly take your free bearhugs! By the way, this shot is from Forced to Flex.... Unfortunately, this video is quite misleading. He wears a t-shirt that says "Free Bear Hugs", but he doesn't give or receive any bearhugs! Plus the video is called "Forced to Flex", but he only flexes for 45 seconds in the entire 19 minutes of running time. I guess we need to be patient and leave these guys a bit more time and experience to come up with scenarios and stories that will please us.